Aimable Nsabimana is one of our new PhD graduates studying economics in Sweden. He is the first PhD graduate of the third phase of the UR-Sweden Programme. We caught up with him and he talks about his experience and what it feels to be a PhD holder. 
Briefly tell us about yourself
I received my PhD education in Economics from the department of Economics, Swedish University of Agricultural Sciences, Uppsala-Sweden. My Master degree is in Economics from the University of Wageningen, Netherlands. I received my Bachelor of Arts degree in Business-Economics with Education (BEE) from the University of Rwanda, College of Education, Rwanda. My main field of research include: Development Economics, Agricultural Economics and Applied Micro and Spatial Econometrics.
You are the 1st student to graduate from the 2013 Programme phase and you actually made it on time; what is the secrete behind?
I would not say that I am a very bright student, more than my colleagues, but I think one of my way of working approaches may have contributed more to this achievement. This is never give up, faith and perseverance. It is really difficult to me if I can sleep before I finish what I have started. Sometimes sleepless night until I get at final stage of what I wanted. But, may be it was not this only. I can live with anybody. In this respect, I created good relationship with my supervisor and this helped me to become more productive in everyday work and he used to give feedback as quick as he could. 
What was your research topic and why did you choose it?
 My research topic is "Essays on Household Demand and Agricultural Policy Implication in Developing Countries"
 The idea of this topic came when I was taking one course: Development Economics in December 2015 at Stockholm school of Economics. I had chance to meet one of the best Economist in the World: Angus Deaton (Nobel Laureate, 2015). While he was giving his presentation in the same school, I was one of the participants. In his Lecture of the day he talked about Welfare Analysis and Consumption, poverty and inequality in Developing countries. I got inspired to read all his works on welfare analysis. It took me more than three months and after understanding the real question. I come to my supervisor and told him, I need to change my topic of research and work on the household welfare in developing countries. I was lucky since my supervisor could understand my request very fast. From the same day, I started working on household welfare analysis using Living Standard Measurement Survey (LSMS) commonly known EICV in Rwanda. 
What are your key research findings?
 My thesis compiles papers covering the area of food demand and agricultural policy related issues. Papers I-II examine the welfare implication from adopting modern agricultural inputs and the effects of the likely changes in rainfall on food market prices in Rwandan context. Paper III investigates the reliability of unit value or community price when computing demand elasticities in Tanzania. Finally, Paper IV explores food Engel curves and consumption patterns in Rwanda. read more
Briefly describe PhD experience to anyone who wants to follow in your footsteps
 Everything is possible and everyone who would like to do PhD, there are common 6 key points to respect:
Confidence that "you can do it"
Realistic on the quality of the PhD
Saying "no" to distractions
Writing up as you go along, showing your work and meeting short term deadlines
Maintaining a close relationship with a supervisor
Seeking help when needed
4 years in Sweden; how did you blend with the whole new environment?
Lots of up and down hills. But the most important is to be consistent and focus every day, Self-confidence and good collaboration with the environment, mainly the supervisor.
What do you plan to do now that you have completed your doctoral studies?
I would only wish to be in research area environment and possibly with minimum level of teaching. This will allow me to effectively disseminate the skills and knowledge through good number of research publication and at the best possible provide new insights for policymakers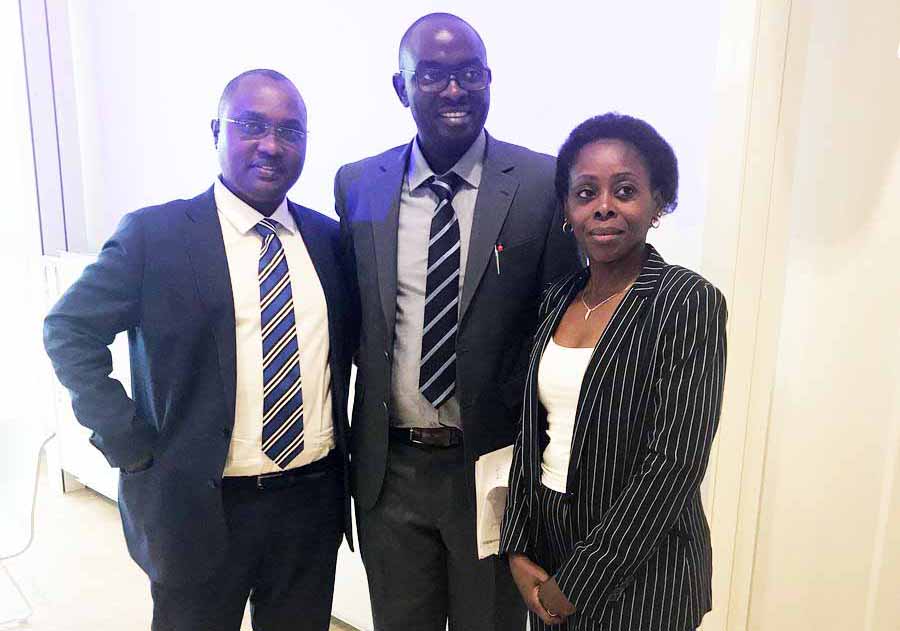 Dr Nsabimana (C) & HE Nkulikiyinka (R)Ambassador of the Republic of Rwanda to the Nordic countries
By  Darius Murangwa
Communications Officer