For the 2nd consecutive time, the University of Rwanda joined the world to observe the International Day of Mathematics commonly known as Pi-Day (π-day). The event was organized by the College of Science and Technology in collaboration with UR-Sweden Programme, the African Institute of Mathematical Sciences (AIMS) and East African Institute for Fundamental Research.  
The event featured mathematics competition for secondary students from 24 high schools that culminated with prizes distribution for best performers. It also included lectures by eminent professors of mathematics who made presentations that aimed to popularize mathematics and hence attract more students in Science, technology, engineering, and mathematics areas.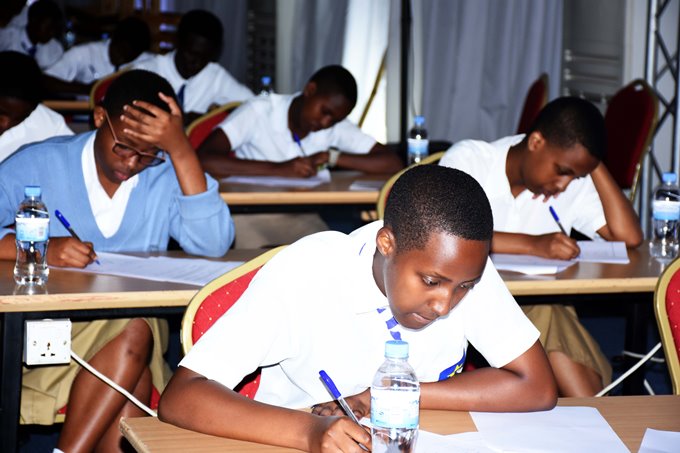 Students during Mathematics contest                  
In his welcoming remarks, Dr Ignace Gatare, the Principal of College of Science and Technology took participants into a series of major breakthrough achieved thanks to the use of mathematics. He further demonstrated that mathematics is behind digital revolution that has improved the way people communicate and conduct business.
"It is difficult to dissociate the progress made by the civilization with mathematics" Gatare said
Speaking on the occasion, Prof Phil Cotton the UR Vice Chancellor encouraged students to consider joining the University of Rwanda. He informed them that UR is a place where they will meet people who will inspire and groom them in the field of science and help them becoming the best human being who will contribute for the development of the nation.
Prof. Cotton (R) and Dr Gatare during Pi-Day annual celebration
The event also attracted H.E Jenny Ohlsson, the Swedish Ambassador to Rwanda. Despite her modest skills in science, she admitted never doubting the importance of Mathematics because all the new cutting edge technologies have component of mathematics in them.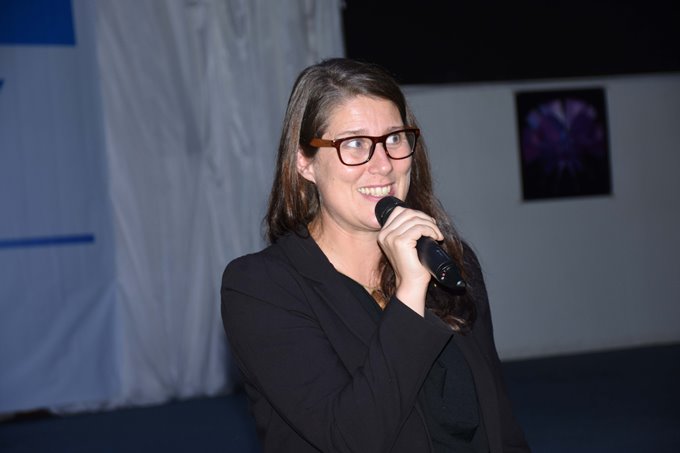 H.E Jenny Ohlsson, the Swedish Ambassador to Rwanda.
"Mathematics is the core of innovations and modern technologies that are produced" she said
Among the students who participated in the competition include Icyeza Sesame Lorita from Lycée de Kigali. She ruled out the common belief that Mathematics is a tough subject; she only called for giving it time, dedication and passion like any other subject. Icyeza who is in senior 6 challenged parents to encourage children in the early stages because, according to her everyone loves mathematics.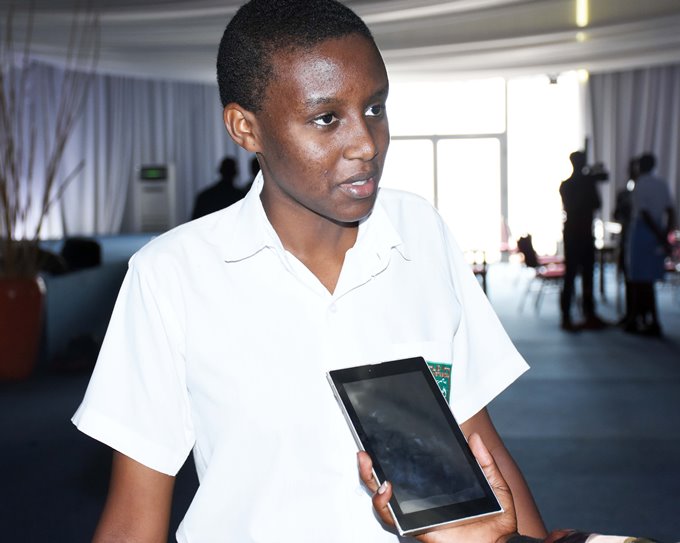 Icyeza Sesame Lorita a student from Lycée de Kigali
With regard to Mathematics competition, Munezero Aimé Cedric emerged the winner. He is from Ndera Minor Seminary and was awarded $500 and an Ipad.
By  Darius Murangwa
Communications Officer