The University of Rwanda has benefited one more year of collaboration with the Government of Sweden in the existing support through Swedish International Development Cooperation Agency (Sida). The extension agreement was signed by Prof. Philip Cotton, UR Vice Chancellor and Dr Emilia Molnar from the Embassy of Sweden in Rwanda.
The existing support to the University of Rwanda through Sida under the coordination of UR-Sweden Programme is mainly focusing on the areas of research and higher education. This contributes to Rwanda's high ambition of building individual and institutional capacities.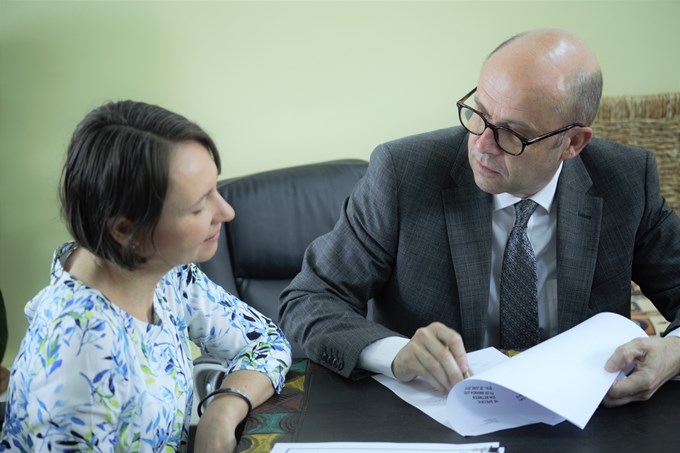 Dr Molnar (L) and Prof Cotton during the signing of new agreement
According to Prof. Phil Cotton, Swedish support enables the University of Rwanda to achieve its mandate, which is in part to engage in research that helps to solve the problems of the country.
 "The collaboration leads to research that has an impact on policy making and provision of evidence for policies that might come through from the government," Cotton said. 
Speaking on the occasion, Dr Emilia Molnar commended UR for the commitment demonstrated during previous phases of the partnership. Emilia who is the Senior Programme Manager for Research and High Education in the Swedish Embassy also called on all players into the partnership to ensure that the extension concentrates on activities that are result oriented.
From the agriculture as the most type of work in Rwanda, the collaboration has enabled generation of knowledge through the training of Masters and PhD. This is leading to the increase of the critical mass of specialists who are catalysts for the transformation and modernization of Rwandan agriculture sector.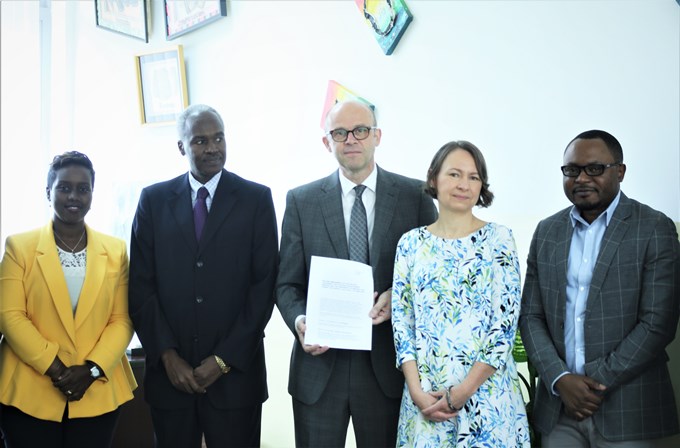 From right: Mr Raymond Ndikumana (Overall Coordinator of UR-Sweden programme), Dr Molnar, Prof. Cotton, Amb. Dr Charles Murigande and Dr Sylvie (Deputy Coordinator and Student Manager)
Equally, with Swedish support a number of publications are being made to inform right choices in economic and finance sectors in a bid to ensure a stable macroeconomic environment and sensible exchange rate policy.  The move is poised to complement Rwanda's quest to move from a purely agriculture based economy to more industry and service economy.
The same applies to the Information and Communication Technology (ICT) being essential engine driving Rwanda's transformation to a knowledge-based economy. The Programme has heavily invested in ICT research especially ICT in education, ICT in Government and Public sector, telecommunication and computer engineering and computer science.
 Good progress is being made in the field of medicine, law and other critical areas like environment and Peace and conflicts.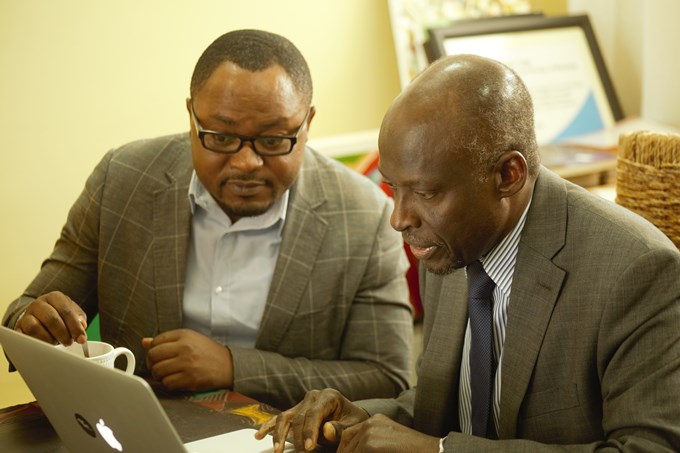 On the sideline of the signing: Prof Ijumba and Mr Raymond during the discussion
By  Darius Murangwa
Communications Officer