29th August, 2018- The University of Rwanda-College of Business and Economics launched the 1st volume of Rwanda handbook of Economic and Social Policy. The721 page research book was launched in the presence of the Minister of State in charge of Economic Planning from the Ministry of Finance and Economic Planning who was the guest of honour.
Speaking during the event, Hon Dr Claudine Uwera, the Minister of State in charge of Economic Planning in the Ministry of Finance highlighted the significant linkage between research and policy. She advised participants to ensure that research being carried out plays a critical role in Rwanda's journey towards poverty reduction while becoming a fundamental tool to support the implementation of Government policies.
In his address during the launch, Prof Phil Cotton UR Vice Chancellor advocated for the reduction of amount of time for research to be translated into policies.  He also called on the researchers to invest time in research that leads to evidence based policy and to improve the research methods by carrying out research that really matters for the community welfare.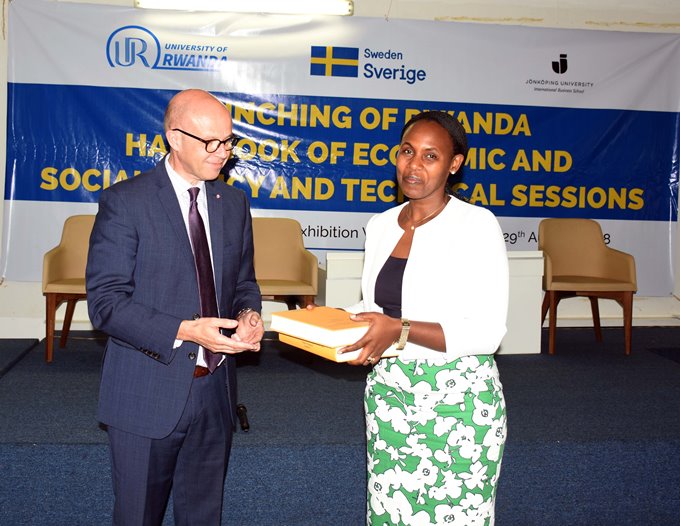 The launch of the book by Prof Cotton (R) and  Hon Dr Uwera
According to Mr Raymond Ndikumana, the dissemination of research findings to the beneficiaries and engaging policy makers and relevant partners is the most important part of the research. Ndikumana who is the Overall Programme Coordinator of UR Sweden Programme pointed out that the Programme has supported more than 100 people to do their PhD studies which is a huge boost in cementing the culture of research in Rwanda. It is worth noting that the guest of honour is one the products of the programme as she completed her doctorate studies at the University of Gothenburg in Sweden thanks to the Support of UR-Sweden Programme for Research High Education and Institutional Advancement.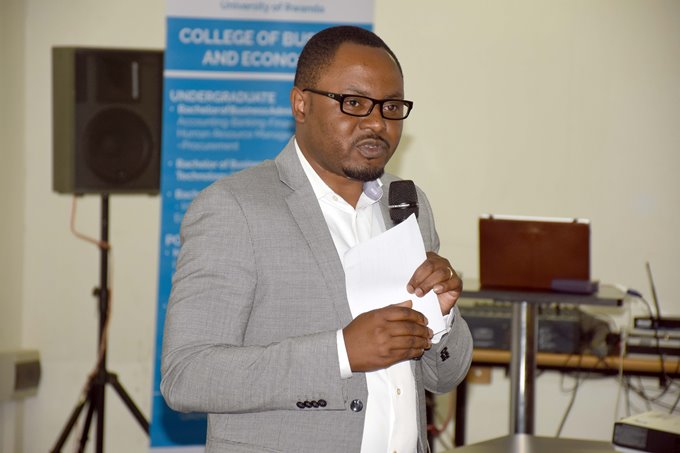 Mr Ndikumana, the Overall Coordinator UR-Sweden Programme
Among other key participants in the launch include Prof Thomas Kigabo the Chief Economist from the National Bank of Rwanda, Mr Yussuf Murangwa the DG of Rwanda National Institute of Statistics, Mr. Fodé Ndiaye UN Resident Coordinator and Prof Almas Heshmati, the handbook editor and one of the leading global economist.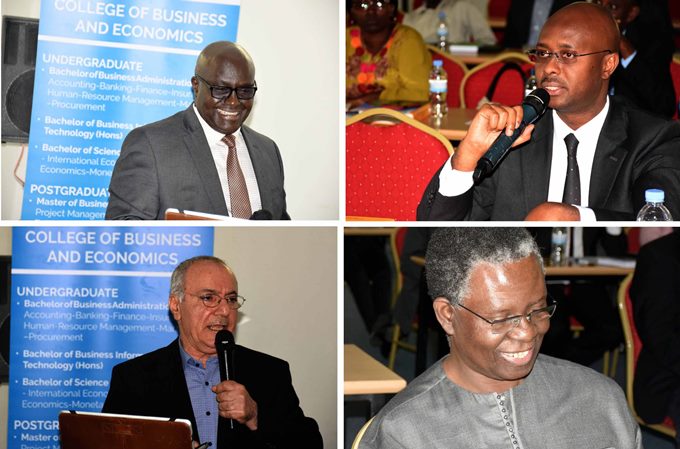 From top left-clockwise Prof Kigabo, Mr Murangwa, Mr Ndiaye and Prof Heshmati
The handbook initiative was steered by Prof Rama Rao and Lars Hartvigson both team leaders of Economics and Management Subprogramme  from  UR and  Jönköping University respectively. The Rwanda handbook of Economic and Social Policy" comprises research papers by UR academics that include topics on Sustaining vision 2020 achievements, Wellbeing Livelihood Diversification,  Labor,  Job creating Growth to mention but a few.
By  Darius Murangwa
Communications Officer