The Senior Research Advisor at the Swedish International Development Cooperation Agency (Sida) commended the research culture being developed at the University of Rwanda. Dr Therese Soop expressed her satisfaction during a 3-day visit to UR in which she discussed with UR officials and researchers the status and impact of research since the establishment of the UR-Sweden Program. Her visit is in line with the existing research collaboration between the Government of Rwanda and Sweden under Sida support, a partnership spanning 20 years now.
Speaking on the occasion, Therese hailed the research and innovation projects that are being conducted at the University of Rwanda. She further noted that both research and innovation should lead to social impact. Therese added that academic environment, innovation processes as well as the aspect of local context are among the key components for research culture to flourish.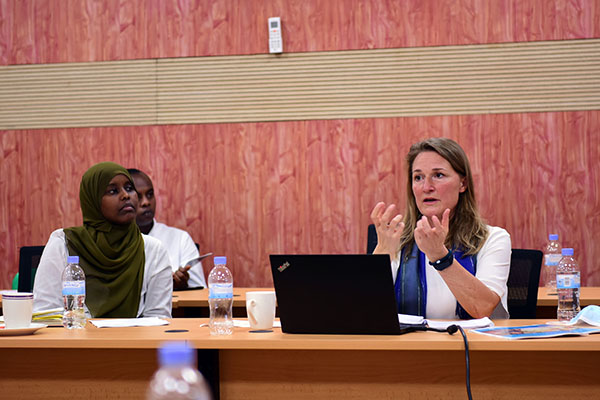 Dr Therese Soop during her visit to UR ; with Dr Barni Nor, Senior Programme Manager for Research and Higher Education at the Embassy of Sweden in Rwanda
Among the research presenters on the occasion included Dr Parfait Yongabo who in his research, explored among others innovation ecosystem in Rwanda and highlighted efforts of Rwanda in developing innovation systems. For the innovation to take place Yongabo urges among others proper interaction among stakeholders (Universities, industries and Government agencies).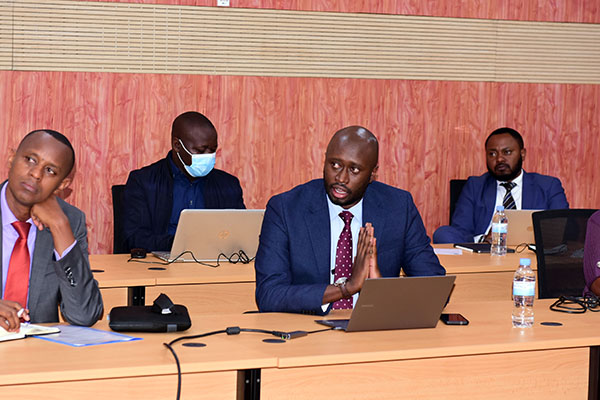 Dr Parfait Yongabo, during his research presentation
Yongabo is a faculty member of the College of Agriculture, Animal Science and Veterinary Medicine, University of Rwanda ; a PhD graduate in Research Policy at Lund University in Sweden. He is among the 81 UR-Sweden Program PhD graduates under the bilateral research partnership between Rwanda and Sweden.
In his remarks, Dr Papias Musafiri who represented UR management in the session said that all the research breakthroughs are guided by UR ambition to be a research led institution. Musafiri who is the Deputy Vice Chancellor for Strategic Planning and Institutional Advancement revealed that UR research in terms of publication has increased, thus contributing to its position as one of reliable research institutions in the region and globally.
The Deputy Vice Chancellor added that UR has embarked on the journey to promote research uptake and ensure that conducted research can inform practices and make a direct impact for the community welfare. He also noted that innovation should be imbedded in the University of Rwanda curriculum, which will ultimately sustain the culture of innovation at all levels.