Scientific journals have set standards and guidelines that allow them to have quality research papers in their publications. However, aspiring and novice researchers struggle to meet standards required to have their papers published. Under the support of UR Sweden Programme, the University of Rwanda Centre for Language Enhancement started a training workshop for UR Postgraduate students in order to equip them with skills for proper scientific writing. 
Alice Ingabire is one of the participants completing her Masters of Animal Production in the College of Agriculture Animal Science and Veterinary Medicine. She is convinced that the workshop will enable her to publish quality papers and hence realize her dreams of becoming an academic researcher. For masters' students to get their degree, publishing at least one paper in a recognized journal is a requisite; this makes the workshop even more significant for the trainees.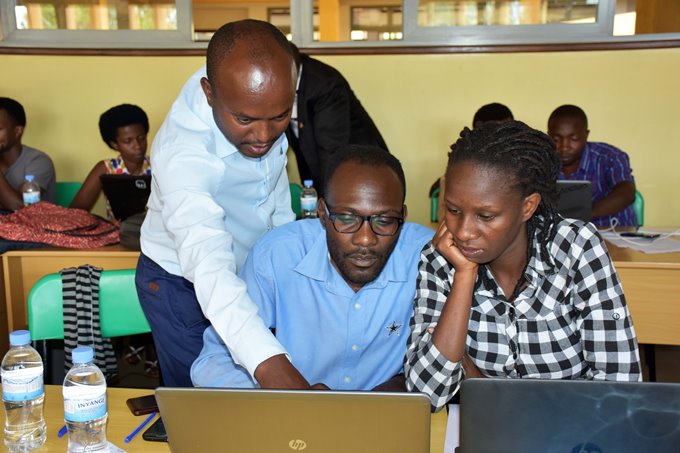 Alice Ingabire (front right)completing her Masters of Animal Production at CAVM
The workshop focuses on editing practices and proper language that students should harness in order to condense their manuscripts without distorting the content.
"Here we are learning among others ways to condense texts with a view to have the minimum possible wording," Ingabire said, adding that the training also exposes her on techniques to crosscheck her thesis and papers prior submission while avoiding grammatical errors.
According to Mathias Kavara Nyamatare who also attended the workshop, acquired skills will groom them for better researchers who will invest into informed researches, from which the community and the country at large can benefit. 
"To be an academic researcher which is my target, you need to read and do more informed researches-grow knowledge and discover new technologies which will eventually help to improve the system of farming in our case" said Nyamatare who is also employed in a laboratory of milk testing and juices agroprocessing in one of the biggest industry in Rwanda.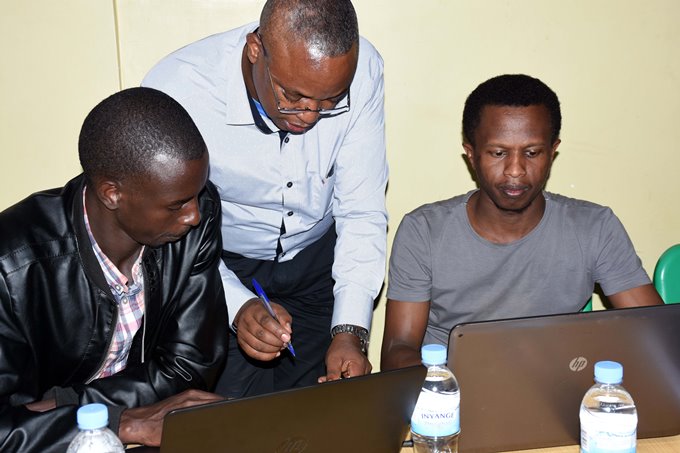 Mathias Kavara Nyamatare (front right) during the training workshop
The training was facilitated by the University Centre for Language Enhancement which has the mandate to advance the language proficiency at the University of Rwanda. Speaking during the training, Dr Hilaire Habyarimana, one of the facilitators stated that the training was prompted by the existing gap of students who could not present their academic paper in a language that is convenient for scientific papers.
"Many students can speak and argue, but when it comes to writing we found out the lack of coherence-with some grammatical errors in their manuscripts" He witnessed.
He added that the Centre's plan is to reach out to all postgraduate students available in UR Colleges.
By  Darius Murangwa
Communications Officer