Social Work policy makers, academics and practitioners were called to review their commitment to build strong collaboration towards social development leading to all human beings' dignity. The call was made during a one day seminar organized by Social Work Subprogram under the support of UR Sweden Programme.  The event also attracted the Secretary General of International Federation of Social Workers Dr Dr. Rory G. Truell.
Since 1994 after the Genocide against Tutsi, activities of Rwandan social workers have been positively changing the community include but not limited to reuniting and solving family conflicts, and encouraging communities to play a role in finding solutions for themselves.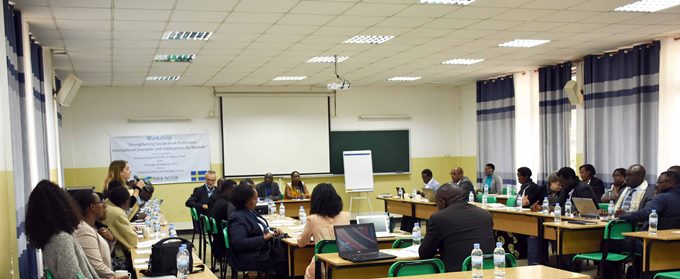 Participants in the seminar
In his remarks, Dr. Rory noted that countries' development is inherited from the job done by social work professionals. He also urged social work practitioners to keep helping communities because, according to him, the development depends on population social coexistence.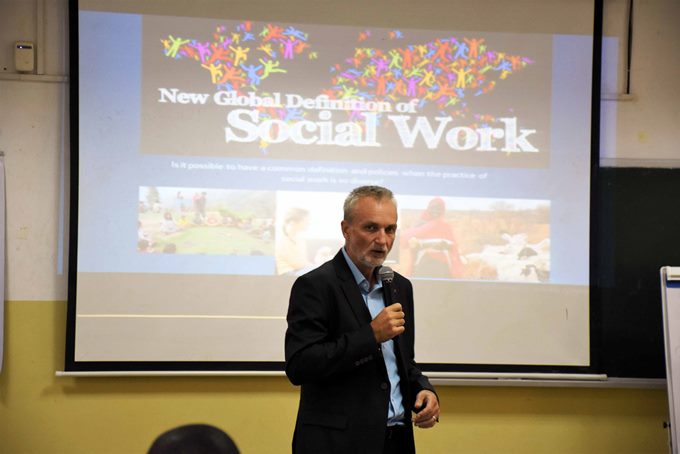 Dr. Rory during his presentation
"Social work is a ground profession that policy makers and many governments now recognise; investment into professional social work spurs rapid growth of the economy," Rory said. He further told participants that the career of social work requires to go deep into the society and try find solutions to issues like family conflicts, school drop outs, prejudice and mistreatment.
Speaking while opening the seminar, Prof Nelson Ijumba said asked social work practitioners to keep increasing awareness of people's rights and be ready to mitigate all kind of social related issues. According to him, social work is the essence of why we live as human beings and therefore social work practitioners have big responsibility to try and make people feel that they are part of the community while ensuring that people have their dignity to live as human beings.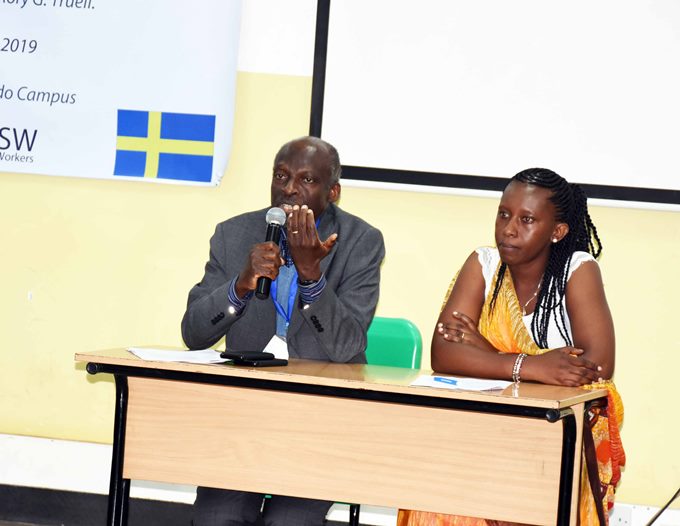 Prof Ijumba (L) during his opening remarks
"If you're a human being and your next neighbour is suffering, then you can't enjoy being a human being" Prof Ijumba said. 
The theme of the seminar was "Strengthening Social Work Professional: International Examples and Implications for Rwandans". Social work subprogram is part of 13 UR-Sweden Programme research clusters and will be implemented by the University of Rwanda in collaboration with the University of Gothenburg; Faculty of Social Sciences/Department of Social Work. The programme main activities are PhD training, conference attendance, academic research seminars which aim to boost research culture amongst staff and students, policy interaction meetings, community outreach activities and support the research and their publication.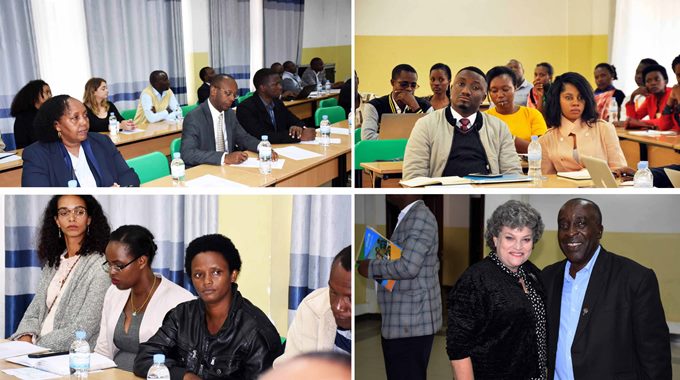 Sections of participants during the seminar