Dr. Charles Kabiri was appointed Director of the Centre of Excellence in Energy for Sustainable Development-ACE-ESD, hence replacing Prof. Etienne Ntagwirumugara who has been leading the Centre from its establishment in 2016. The ACE-ESD is one of the four centres of excellence funded by the World Bank at the University of Rwanda.
In a handover Ceremony that took place at the Centre, the outgoing Director Prof. Etienne Ntagwirumugara said that during his directorship, the Centre has made tremendous achievements and he is quite sure that the incoming Director will keep the Centre moving forward.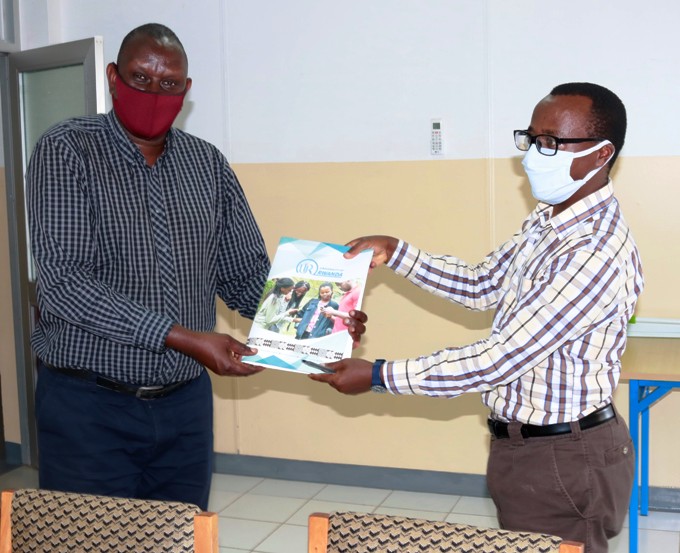 ​
Prof Ntagwirumugara during the handover ceremony with Dr Kabiri (Right)
He highlighted that under his leadership, new projects were developed and won grants mainly the 250, 000 USD grant for the establishment of the incubation Centre, a facility which is meant to bridge the gap between academia and industry by supporting students/universities and industry from African Countries to create new markets that, fits the needs of African society.
"You need to ensure that this project is successful as it is still a baby. You were here as Deputy Director, you have all information about these projects and I am ready to support if needed as I am still here supervising some PhD students", Prof. Etienne Ntagwirumugara said. 
In his remarks, Dr Charles Kabiri commended the work done by the Director and assured that he will do his best with the Centre team to keep the Centre excelling. "We have a strong team, we have capacity and resources; we will try our best to make sure the Centre keeps on growing. DrKabiri said, adding that the Centre will keep on benefiting from Prof Etienne's experience.
Who is Dr. Charles Kabiri?
Dr. Charles Kabiri received the BS Degree in Electronics Engineering from the National University of Rwanda, in 2006, the MS Degree in information and communication systems from the Huazhong University of Science and Technology, China, in 2010.
Kabiri got a PhD in Telecommunication Systems from the Blekinge Institute of Technology, Sweden, in April 2015. His doctoral studies in Sweden were funded through the existing research cooperation between the University of Rwanda and the Government of Sweden under the coordination of UR-Sweden Program.
He currently doubles as a lecturer in Electrical and Electronics Engineering Department, College of Science and Technology, University of Rwanda. Prior to being appointed Director of the Centre, he was Deputy Director of the same Centre from its establishment in 2016.