For the 3rd consecutive time, the University of Rwanda joined the world to observe the International Day of Mathematics commonly known as Pi-Day (π-day). The event was organized by the College of Science and Technology in collaboration with UR-Sweden Programme, the African Institute of Mathematical Sciences (AIMS) and East African Institute for Fundamental Research.  
The event featured mathematics competition for 53 students from different high schools in Kigali and countryside. It also included presentations that aimed to popularize mathematics and hence attract more students in Science, technology, engineering, and mathematics areas. 
The winner of the competition was Honorine Munezero, a high school finalist from Lycée Notre Dame de Cîteaux. She was awarded with an iPad, $ 200 and got a full scholarship at the University of Rwanda. The 2nd run up came from Petit Séminaire Ndera and equalled prizes to Honorine. Lycée de Kigali emerged the 3rd with the winner awarded an Ipad and $ 100. Both Don Bosco – IFAK and Ecole des Sciences Byimana came at 4th and 5th respectively with winners pocketing $ 250 each.
Honorine emerged the winner of the competition
Speaking on the occasion, Honorine Munezero, the winner of the competition noted that perseverance was key for her to unlock the secret to success in mathematics. According to her, it is not only about studying and calculating formulas or getting familiar with solving problems; the most important thing is understanding what you want and go for it.
"There is nothing you would lose by trying, you can fail but when you persevere your efforts eventually pay off," said Munezero adding that the University of Rwanda is life changing to Rwandan and the future generation, thus grateful for full scholarship she got from the University.  
On top of their prizes and in recognition to their hard work, the University of Rwanda offered full scholarships to the first two girls and two boys.
Pi day is one of Mathematics outreach campaigns organized each year. Participants are taken through stimulating lectures and problems solving sessions showing them that mathematics is fundamental for cutting edge technologies.  This is reckoned to be the best way to attract more young and female students to study mathematics who, at some point may proceed for postgraduate studies.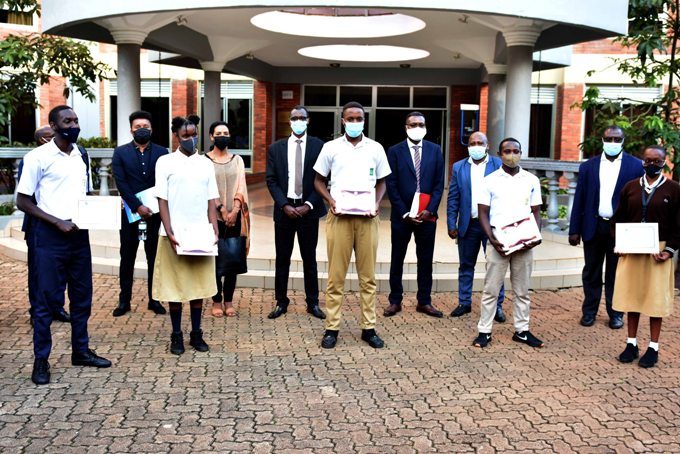 Students who made the top five pose for a group photo